THE CHURCHES IN GULEN
Tekst og foto: Scandion

BREKKE CHURCH - GULEN CHURCH - MJØMNA CHURCH.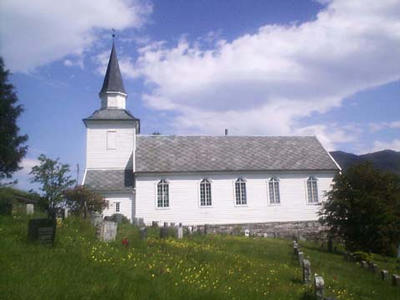 BREKKE CHURCH
Brekke church was built i 1862. It is the oldest church i Gulen. Beside the church there was a smaller church from the 1600-century, but this was torn down in 1863. Written sources from 1327 tell about a church in Brekke. Most probably a old Norwegian wooden church.
The alterboard in Brekke is painted by the well known pictorial artist A. Askevold in 1862. The picture shows Jesus being strenghtened by an angel in the Getsemane. On each side of the alterboard two big wallcarpets are hanging. They are made by the pictorial weaver Emma Breidvik from Brekke. The one carpet shows an angel. The other shows when they take Jesus down from the cross.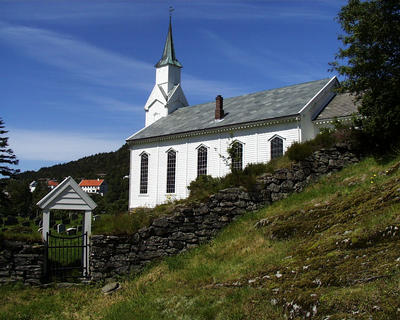 GULEN CHURCH
The church was consecrated in 1863. It has approximatly 700 seets. There has been a church at this place from the time of "Gulating". The tower of the church has two churchbells. The oldest is probably from the 1400-century. The otherone is from 1711.
The alterboard is painted by C. Brun. It illustrates Jesus in the Getsemane. The font is of solid rock, with a circleround hole to the water. Before 1905 it stood by the celtic cross besides the churchyard wall. The font is supposed to have been used during the earliest christian influence in Gulen.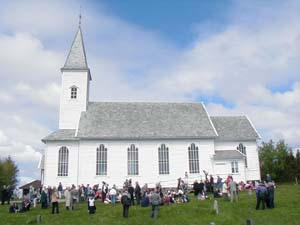 MJØMNA CHURCH
The interior of this church is a good examle of Gothic style of building. The church has good acoustics and is suitable for song and music performances. It was built in 1901.
The alterboard was painted by the local artist Vilhelm Bjørknes. It shows the resurectin of Jesus Christ. The churchsite is exposed to heavy weather and you can only get there by boat. The biggest and farthest out islands that belong to the parish are Mjømna, Byrknesøy, Hille and Sandøy west.